Last week, I opened my home to eight Powerhouse Entrepreneurs to spend a weekend relaxing, forming deep friendships, transforming inner obstacles into opportunities, community building, and stepping into their zones of genius to mastermind each other's businesses to the next level.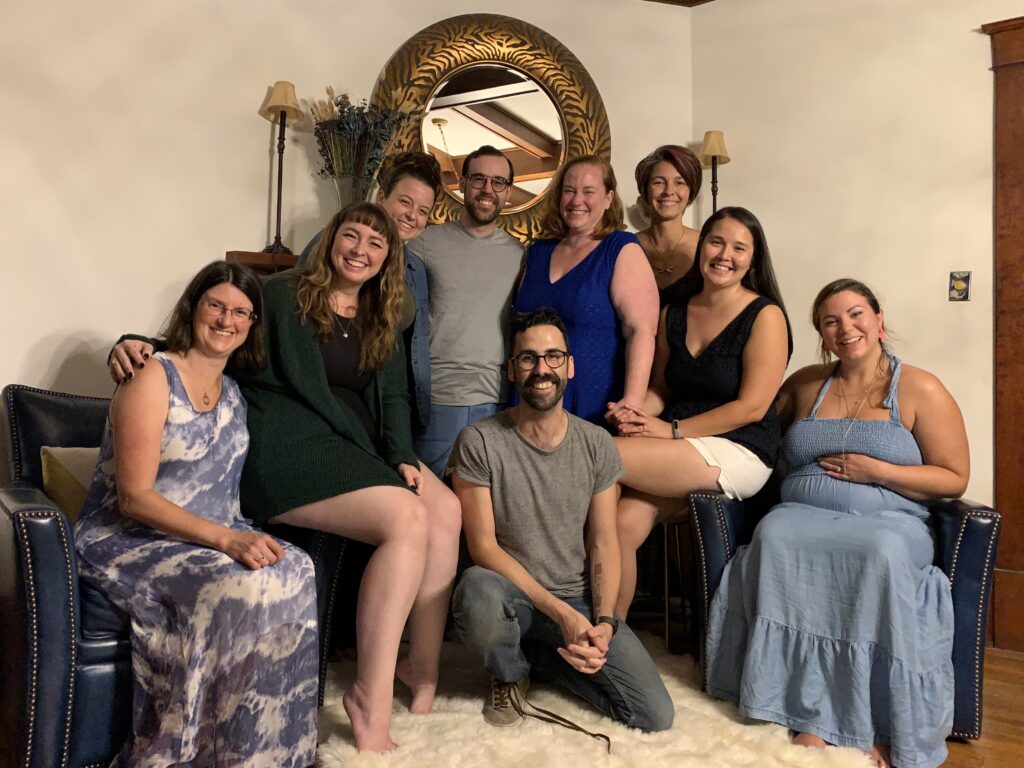 The weekend was like "walking through love," as one participant described – curated to provide the spaciousness, support, and spark that would catalyze forward momentum in their lives.
This is the third year since the inception of the Powerhouse Entrepreneur Program, and it has taken me an extraordinary amount of courage to make mistakes, to experiment in the unknown, and to reinvent in service of my clients to design not only a transformational program, but to create a deeply bonded community.
As someone who has personally resisted community building in achieving my successes over the years, I tend to attract many others like me who want community, but isolate themselves when they need the most support.
It took me having my own breakthroughs and my own pursuit of abundant care and support to become the clearing for my clients to realize the same for themselves.
Watching and leading the magic that transpired this weekend, I realized that there are a few core shifts I've made over the years that changed this program from a "course" to a "community."
1.
Build the House Before You Make it a Home
One of my core values for the program is to "Make this Powerhouse Your Home" for its members.
Creating a home base of safety, trust, support, and self-growth is a beautiful concept in theory, but in practice is a nebulous, subjective need to meet.
In years past, my desire was for this program to be not only a space where I trained the participants in new levels of self-mastery to build a stronger foundation in their business, but also encouraged them to lean on each other to practice these new ways of being and be more seen and heard than ever before.
At the core of turning this coaching container into a homebase, I realized that more structure was needed before I could give them more space to take up.
Just like in curating a physical space, we can't skip over having rock solid floors, walls, and ceilings before we add paint colors, art, and furniture. Otherwise, no matter how beautiful a space we make, its unlivable if it's not safe to stand in.
For me that meant much more hands-on facilitation on program calls, curating the culture and modeling expectations over and over again, and training the participants in how to show up for themselves and each other in both words and actions.
As I said before, when you are in a room full of powerhouses who have gotten where they are today by their own strength of resolve and brilliance, it can be challenging to break the habit of "lone-wolfing it," as I call it.
The thing is, we train people how to be in relationship with us.
If we train people to believe that "we've got it handled" every time there's a problem or crisis, people stop showing up for us. When people aren't in the habit of showing up for us, in the rare moments we reach out and ask for help, oftentimes that "help" gets bungled or lost in translation of poor communication.
This usually leads to reinforcing stories in our heads that we have to take on hard things ourselves because no one is capable of helping us… and the cycle repeats.
This practice in learning how to ask for and receive the support we need is the bedrock of community building, I believe.
When we allow ourselves to be seen in our hour of need, ask for specific support from a wide support system, and receive that aid with an open heart – we start to see that the abundance of love, trust, and opportunities that's available to us everywhere in life.
2. Operationalize Your Values
Asking for people to be vulnerable, to trust, to practice in real time something they've never done before cannot just be in words, but in the being of the leader.
If I expect that of them, I, too, must be willing to be vulnerable, trust myself and them, and practice what I preach with no hope of achieving perfection.
I have made too many mistakes to count in my three years of leading this program.
What I have learned in that process is not just the lesson the mistake taught me, but also what it takes to own them without shame. If we become ashamed of ourselves every time we goof up, or even totally fuck up, then that comes across to our clients.
For example, when I make a mistake and then fall on my metaphorical sword for the client(s), then (1) I am training them that that's how to treat me or what to expect of me next time, and (2) that there is shame in messing up or failing.
So, instead of just having core values that you preach, we must find ways to act in integrity with – i.e. operationalize through action – those values.
My core values as a leader and coach include:
Vulnerability is courageous, and being courageous requires vulnerability.
Boundaries and trust are how we teach and allow people to love us.
Every mess can be cleaned up when in integrity with yourself and in partnership with others.
Well-being is the highest priority. When you raise you floor, you can raise your ceiling.
Support is required to lead, and you are the only one who knows what support you truly need.
So, I cannot simply pay lip service to being vulnerable and courageous – I must practice it in real time.
I must normalize boundaries and train on what healthy trust requires by creating and honoring my boundaries, respecting my clients' boundaries, and behaving in a way that cherishes their trust.
I must model making messes and mistakes without betraying myself, creating power dynamics, or spiraling in shame.
I must actually walk the walk of well-being. If I am not well enough to serve my clients at my highest and best (which has happened more than once while pregnant), I have rescheduled calls and created win-wins that still benefit my clients.
And lastly, I must be willing to model receiving abundant support and the level of self-mastery where my needs are truly met.
That has looked like hiring associate coaches and assistants, creating support groups among colleagues, consciously designing my schedule to manage my energy, and requesting help and/or love in the moment from my inner circle.
None of these are easy to implement through and through, but I believe that upholding these values in my own life provides the opportunity to demonstrate what's possible and what's required to lead with integrity – especially when it's imperfect.
3. Become a Leader of Leaders
One of the concepts I introduce early on in the program is that I relate to myself as a Leader of Leaders.
I am not here to instruct, tell, or hold myself as separate from the work. I am practicing leadership in real time with them.
The tricky part I have found in my years of leading this program is connected to the first point above, where the container must first be built before we can invite creative design and making changes to the container that fit our needs better.
I used to try to build the container as we also designed it… and it led to confusion, rebellion, and frustration.
My clients needed me to first lead and model the curriculum and principles before calling them in to make the space their own.
What I witnessed in last week's Powerhouse retreat was the beginning of that transition. My leadership has established the culture and values of the space, the structure of the program has set expectations for how to show up, and my coaching has integrated theories into practice for each participant.
And now… I have the pleasure of calling forth these leaders to generate what they came here for.
True community. True inner responsibility and self-mastery of needs. True masterminding of equals with unique gifts and genius.
I now get to take up less space in service of them taking up more, I get to reshape structures to better fit what's needed, and and I get to invite co-creation through their own leadership, ownership, and expertise.
One of the remarks I heard most often during the retreat was what a dramatic difference it made to be in a room with others who are self-aware enough to take responsibility for their own well-being and needs, while still practicing energetic and emotional intelligence to hold space for others to do the same.
Leadership is not a power dynamic – it's empowerment.
When we know how to both speak up and listen deeply, we stand in our power without taking it away from others.
Most people don't just "know" how to stand in their power, or how to spotlight others in theirs. But by creating a container they can trust, operationalizing our values, and inviting leadership with others, the Powerhouse Entrepreneur Program provides that process and space to discover personal power and build deep community.